How much does a new costumer cost in Denmark?
How much does a company have to pay in order to acquire a sale or get a new lead? This question is properly hard to answer for a large number of both CEO's and CMO's. However, the price per acquisition, CPA, is nonetheless a very important KPI when it comes to evaluating your marketing efforts.
In order to provide an answer Obsidian Digital has chosen to create a survey that includes companies from a large number of industries to find the average CPA in Denmark.
Methodology – this is how we did it
In order to analyze how much a lead or a sale can cost in Denmark – we have compiled sales data from more than 200 websites Facebook- and AdWords accounts for the past 12 months. Because the websites have varation in their traffic, we have normalized the data before calculating the average.
Furthermore, we have chosen only to focus on the number of hard conversions; this means that we have excluded soft conversions such as new signups for email newsletters.
A conversion in our survey therefore corresponds to a sale, for all the web shops, while it corresponds to a lead for service providers.
A lead is created when a possible costumer fills out a contact form through either Facebook or through an AdWords add. Conversions also include call-tracking conversions and e-mail clicks from AdWords.
In our survey we have chosen to include the following industries and types of companies:
Lawyers
Financial services
Home renovation
Food and beverages
Wellness
Industry
Marketing
Interior design
IT & Software
Fashion
Healthcare and medical
Education
Recruitment
Entertainment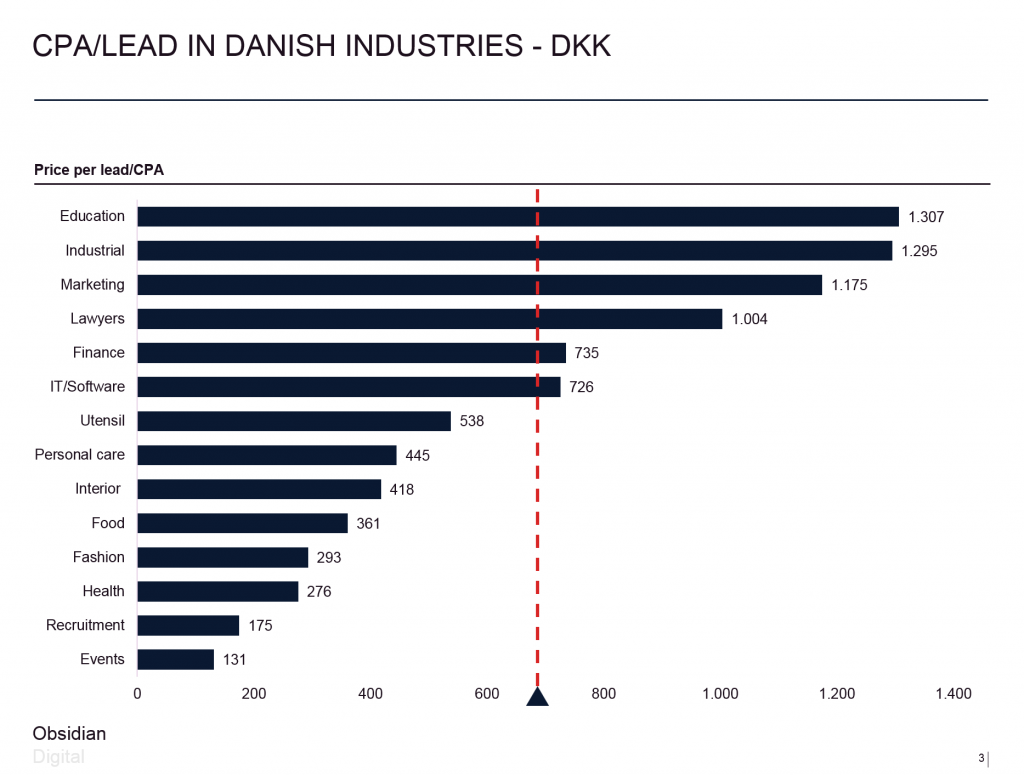 Findings: Service providers generally have the highest CPA's
According to the survey it is mainly service providers that have the highest CPA's in Denmark.
Both educational institutions, as well as industrial companies and lawyers are all among the top three industries with the highest CPA's. In all of these industries the average CPA is above 1000 Danish Kroner, 160 dollars.
The high prices for these industries both illustrate the high level of competitiveness which drives up the click prices, but it also reflects the great perceived value that lies being a sale in these three industries.
Furthermore, it is important to note that Denmark is situated among the three most expensive countries in the world when it comes to using Facebook advertising in. However despite of this it is still considered a very inexpensive marketing channel by Danish companies.
In the other end of the scale we find companies within entertainment and recruitment.
Within these two industries the average CPA was 131 Danish Kroner, 21 dollars, and 175 Danish Kroner, 28 dollars.